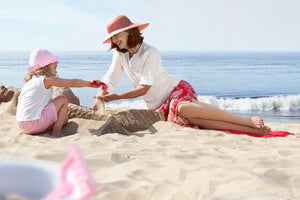 As the weather gets warmer we get ready for spending more time outdoors by breaking out our summer clothes, our favorite outdoor activities, and planning summer outings. However, the warmer weather can sometimes prove to be difficult for those who wear compression. If you must wear compression regularly or every day, the warm weather can sometimes be a challenge. While it may be less comfortable to wear, compression can actually help prevent and relieve common symptoms such as swelling and poor circulation that can be caused or worsened by the heat. You don't have to compromise on your health during the summer months though. You can still wear your compression and get the same amazing benefits while staying comfortable! We've gathered our tips and tricks for wearing compression during warmer weather, why it is so important to continue wearing your compression, plus the best compression socks for summer! 
Unfortunately, swelling is a common symptom in hot or humid weather, which can make your leg symptoms worse. It is very important to continue wearing compression to combat any swelling and discomfort. If you have varicose vein issues, the heat can actually make your symptoms worse. When your body is hot, the large arteries and veins expand to allow for more blood flow. However, the more blood flowing can actually put more pressure on your varicose veins. This can cause additional swelling, discomfort, fatigue and aches. Many people also experience swelling in their feet once the temperatures heat up. This can be common for many people, whether you have leg conditions or not. That is why it is very important to keep wearing your compression, even in the summer. While you are wearing compression, here are some other tips to help keep you cool and comfortable: make sure you are staying well hydrated and avoid direct sunlight if needed. You can still enjoy the nice weather outside, just sit under an umbrella or shady area to keep cool. 
Here are our tips for choosing the best type of compression to wear during the summer: 
First, consider the fabric. The type of fabric your compression socks are made of will play a huge role in keeping you comfortable in warm weather. Microfiber and sheers are great lighter fabric options. One problem with wearing compression or full-length socks is the inevitable sweat from the warmer temperatures. However, the right pair of socks can help combat sweaty feet and legs by wicking away moisture from your body, keeping you dry and comfortable. Look for moisture wicking fabric or materials that help regulate temperature. When it comes to fabric color, choose a lighter color. While you may have your favorite pair of black compression socks, opt for something in a lighter color, like white or sheer for the summer. Plus, sheers and natural colors give you that natural look and go great with shorts and skirts. 
Second, choose your style wisely. Fall and winter are great for layering your favorite stockings and thigh highs. However, the more covered you are in the summer, the warmer you will be. If you can, switch to knee high socks or crew socks for the summer months. Summer is also a great time to try calf sleeves. If you don't need to wear compression on your feet or ankles, calf sleeves are a great option. They provide even more breathability and help keep your legs and feet cooler on hot days. Plus, you can wear them with any type of shoes! If you still need to wear foot or ankle compression, there are other options. Luckily, many compression socks now come in open toe, which is perfect for summer! This gives you a little relief and you can still wear your favorite sandals and open toe shoes. If you have to wear full-leg compression, choose a sheer or light color and look for something in open toe. 
Here are some of our favorite compression socks for summer! 
Mediven Sheer and Soft Women's Knee High
If you're looking for the ultimate sheer compression socks, the Mediven Sheer & Soft are the best option. Not only are they incredibly transparent, but they're also super soft, durable and have added breathability and improved moisture regulation. This makes them the ideal pair of summer socks. They are also made with SilverPlus to prevent bacteria growth. Available in 8-15, 15-20, 20-30 and 30-40 mmHg compression. Also Available in Thigh High and Open Toe. 
This pair of open toe knee highs from Sigvaris are made with double-covered inlay yarns for amazing comfort and make it easier for you to put them on and take them off, which is great in the summer when you can experience more swelling. The sheer fabric is a perfect lighter material and goes great with any outfit. Available in
15-20
,
20-30
, and
30-40
mmHg compression and also available in
Thigh High
. 
The universal style is perfect for both men and women. These socks are made with Clima Comfort, a patented knitting technique that offers improved moisture and temperature control, and Clima Fresh to prevent odors. This combination will make sure your feet are dry, comfortable and smell great on those summer days. Plus, the open toe helps your feet breathe better! Available in
15-20
,
20-30
and
30-40
mmHg compression. Also available in
Thigh High
and
Stockings
. 
Microfiber is a great fabric for the summer as it offers better breathability and moisture management. The unique microfiber blend is also incredibly soft and comfortable on your skin, which is great for those long summer days. Available in
15-20
,
20-30
and
30-40
mmHg compression. 
If you are very active in the summer, this pair from Sockwell is the perfect option for you. Cashmerino wool naturally manages moisture and is thermoregulating to prevent sweaty feet. This sock is also made with mesh breather panels and flex zones to allow for excellent breathability. 
Calf sleeves are great for the summer because they allow your feet to breathe, which helps keep you cool. These CEP calf sleeves have an ultra-lightweight feel and hydrophobic materials to improve breathability. The halo-top band also keeps them in place during all day wear. 
Another great calf sleeve option, this pair from Core-Sport combines the great benefits of graduated compression with a materials that is light and perfect for warm weather. High tech and antimicrobial fibers wick away moisture and help prevent odor and bacteria. Available in
15-20
mmHg compression. 
Another great shorter sock option, this pair from Solidea combines graduated compression with a wave micromassage fabric that promotes skin transpiration to keep your feet dry and at the right temperature. They are also made with bacteriostat yarn that prevents the growth of bacteria and eliminates odor, making them a great option for all day wear in the summer heat. This pair is also universal and perfect for anyone. 
Cushioned for all-day comfort and made with microfiber, these Active Comfort socks from VenActive are great for long summer days. A mesh ventilation panel provides improved breathability, while double-wrapped microfibers provide superior moisture management. Available in
15-20
and
20-30
mmHg compression.