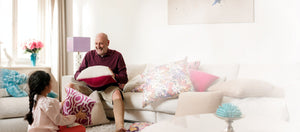 If you are prepping for a Total Knee Replacement (TKR), your doctor has probably recommended that you order compression stockings to aid in post-surgical healing. If they haven't recommended a specific brand or product, you're probably overwhelmed by the choices! There are many options for compression stockings for a total knee replacement. We're going to walk through a few considerations and then give you a list of our recommendations.
Facts about Compression for Total Knee Replacement
Talk to your doctor about the compression level they want you to wear. Most doctors will suggest 20-30 mmHg which is a moderate level of graduated compression, but they may want you in a higher or lower compression level depending on your situation. Ask before you buy anything
Ask your doctor if they want you in a knee high (ends at the base of the knee) or a full leg stocking that covers the knee. A recent study showed that either option is useful in preventing swelling in the leg, but your doctor will be able to tell you what's best for you. We've found that most doctors recommend thigh highs.
You'll be wearing these for at least two weeks post-surgery, so you want to get something that will be comfortable for your life post-surgery. Will you be mostly on bed-rest or heading out? Think about what's going to fit into your lifestyle best.
Compression stockings are sized by leg measurement. Before your surgery, make sure to measure ankle, calf, thigh (if you're ordering thigh highs/pantyhose), and the length of your leg from the floor the bend in the knee. Find tips on measuring here.
Nearly all of the thigh highs and knee highs we sell are sold as a pair. You're probably only getting surgery on one knee, but it will be good to have an extra that you can switch out while you're washing one.
Order ahead of time! Don't get caught going into surgery without your compression stockings ready for recovery.
5 Best Compression Stockings for Total Knee Replacement